Rumpelkammer - EX TRASHES
01: BERLINSOUND

02: MARINETTI

03: ANNAS RAP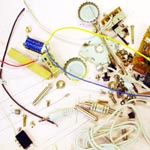 Cover1 (jpeg format)
Cover2 (jpeg format)
BERLINSOUND:
a work from maybe a couple of years ago, obviously different from
my other work - but I like to play with sounds even.
lived about six years in Berlin ( 1968 -1974 ). Some kind of memory.
MARINETTI:
as a dedication to one of the first "sound artists" even but also as a
questionary attitude towards futuristic ideology ( war as the ultimate
artistic event). I did this soundcollage around Marinettis text about
a historical war event in Italian history. Marinettis voice is sampled
from a Swedish CD with historical record of literate people.

ANNAS RAP:
is composed with an artist colleagues voice and a text of Samuel Beckett, once published in a German magazine, which later appeared as a part in one of Becketts novels...

RUMPELKAMMER (aka Wolfgang)
Some of W.Menzel's activity:
2005 Wolfgang Menzel - Longstring: Net-EP at Fabulat
www.fabulat.com
2004 STRING VARIATION 1 in program 367 (issue 367)
www.borderline-extra.de (Germany)
2004 Spanska syrsor
www.quietamerican.org/vacation.html (USA)
2004 Utställning: Position Östergötland, Passagen, Linköping
2004 BEGINNING, film / sound (wmv-fil 2 624 KB)
2004 A BROKEN CONCERT, 6 min 50 sek elektroakustisk music
Sandlådan, Linköping
www.le-musee-divisioniste.org/concerthall
2003 uruppförande av Energy Playing Mills i New Hampshire, USA
2003 ursändning av klangcollaget ORLUNDA WAVES, Deutschlandradio Berlin
2001-2002 AlfaOmega. Skulptur i rostfritt stål utanför Linköpings bibliotek
2001/2002 Produktion av ljud-CDn Berlin soundtales
S. Becketts brevlåda (Galleri Skådebanan, Linköping), installation
1999 TECKEN. Målningar i S:t Larskyrkans bildrum. Linköping
SLAGET. Utomhusskulptur. Järn/betong. Linköping
1995 TILL MINA MEDARBETARE I PRODUKTIONEN. Demokratiutställning
Måleri och objekt. Östergötlands läns museum
1993 PACEMAKER. Installation i Konsert & Kongress
Galleri K. Linköping
Fotografi, ljud och videofilm

1991 Start av Alka-magasinet, med Christer Fällman, Linköping
DÖD OCH LUST. Fotografiska bilder. Stenhusgården
Linköping.
1989 Fotografier. Biblioteket i Kisa
1986 Planket. Fotografier. Linköping.
Porträttbilder på Arbis. Linköping
1985 Planket. Fotografier. Linköping
1984 Almanacka med diverse yrkesporträtt. Folket i Bild. Norrköping.
1983 Fotografier. Konstforum. Norrköping
1969 DUBBELFÖNSTER. Dikter, med teckningar av E. Volland.
Galleri Am Abend. Berlin
1963 Parkutställning med akvareller och teckningar. Wilhelmshaven,Tyskland
Skolutställning. Teckningar. Wilhelmshaven
Born in Wilhelmshaven, Tyskland.
Moved to Sweden in 1974, Norrköping och Linköping.
Member of:
ALKA konstnärsförening, 1991
d-house, 1999